Staff Carrier Truck
An off-road spirit that is beyond compare.
Long distances in absolute safety. TEKNE-ModenaBus busses do not fear risk and are designed to provide very high security standards in transportation of people even in environments subject to extreme conditions and unrivalled performance on rough or gentle terrain.
Cosy and comfortable inside, impressive and aggressive outside.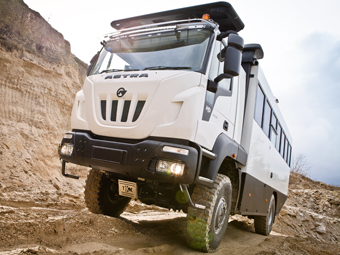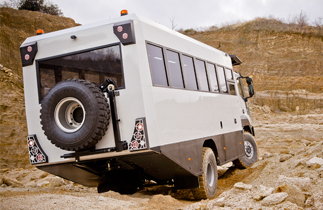 The Staff Carrier Truck is available in ROPS-FOPS version. The inox structures in stainless steel square tubes with robust thickness and large interlocking knots, external and internal cladding in aluminium alloy (Peraluman 30/10): extra heavy duty with excellent resistance to corrosion. Thermal and acoustics insulation of the roof, double camera system, high visibility version with double rear led lights + flashing units.
Solidity, safety and excellent performance. From 28 to 61 passengers (standard, luxury and cheap versions).
Keywords: staff carrier, personnel carrier, man-haul.